Maintenance Pad, the standard-performance floor cleaning and polishing kit is available for all stone floors, hard floors and coated floors, all tasks: restoration, stripping, maintenance, cleaning, polishing, buffing and high-speed burnishing with all machines: floor scrubbers, orbital machines, single disc machines, and high-speed floor burnishers.
4 steps for 4 different applications and results:
Red Pad - Coarse 1#: For deep cleaning, removing deep scratches and stains to leave a clean and well-prepared surface.

White Pad - Medium 2#: For scrubbing, to remove small scratches and leave a matte-finish look.

Yellow Pad - Fine 3#: For floor maintenance, to leave a satin-finish look.

Green Pad - XFine 4#: For polishing, burnishing or daily cleaning, to leave a high gloss end. Use it on a daily basis, the clarity and shine of the floor will increase and stay longer.

Available for using as a kit solution or a separate step.
See the difference between Maintenance Pad and Xshine Pad in FAQ Question 20.
· Eco friendly and Healthy. With water only, it can clean and polish all floors.
(Green chemicals also available if necessary)
· Longer-lasting and higher clarity and gloss.
· Fit for all floor cleaning and polishing machines.
· Safer. Provide a more slip-resistant floor after cleaning.
· Cost-saving on consumables, time and labor compared with traditional floor pads.
| | | | | |
| --- | --- | --- | --- | --- |
| Item No. | Size (Inch/mm = *) | Roughness | Shape | Package |
| ESR*P4/5/6/7 | 5"/125 - 27"/685 | Coarse-Medium-Fine-XFine | Round | 2/5 |
| ESS*P4/5/6/7 | Customized | Coarse-Medium-Fine-XFine | Rectangle | / |
All the floor cleaning, maintenance and polishing cases below are made with water only. Welcome to visit our
Solution Page
to
check more cases.
>>Concrete Floor Polishing and Maintenance

>>Coated Floor - PVC Floor Deep Cleaning and Maintenance
Hospital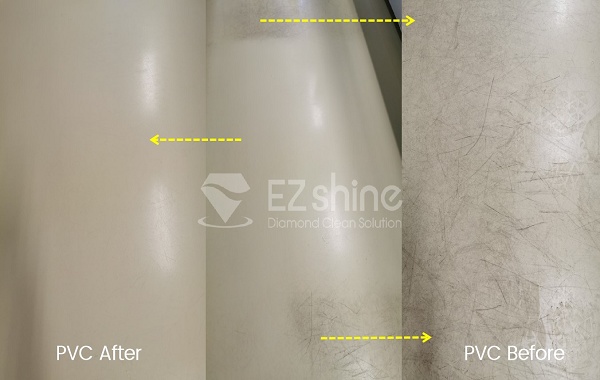 >>Stone Care - Granite Floor Daily Cleaning and Maintenance
Supermarket